Quantity: 6gm
Sizzling - A Cherry Red Translucent Gloss
Rising - A Magenta Berry Translucent Gloss
Blossoming - A Pale Pink Gloss
Soaring - A Nude Brown Opaque Gloss
Belonging - A Peach Brown Opaque Gloss
Emerging - A Rose Gold Shimmer Gloss
Transforming - A Unicorn Shimmer Gloss
Becoming - A Bronze Gold Shimmer Gloss
Glistening - A Clear Gloss
Gleaming - A Champagne Rose Gold Gloss
Serving - A Yummy Deep Brown Opaque Gloss 
Living - A Versatile Rosewood Pink Gloss 
Giving - A Warm, Flattering Pink Gloss 
Flexing - A Peach-Tinted Sheer Gloss 

What is it: An ultra-hydrating, comfortable, shiny AF formula that suits everyone
Why it's special:

Enriched with Passionfruit Oil and Vitamin E
Works on Lips, Eyes, and Cheekbones
Buildable from a casual sheen to an OTT glossy look
Super Hydrating
How to use:

GLAWS GLOSS comes in a unique, first of its kind clickable rollerball pen, which means there's a bit of a learning curve with using the product. Here's how we recommend you go about it:
Step 1: Shake Shake Shakeeee the hell out of your pen. This is important to make sure the glitter in the product is well dispersed for maxx efficacy

Step 2: Click Click the back of the pen, and watch GLAWS GLOSS OOZE onto the rollerball. Wait a few seconds between every few clicks to allow the product to actually flow out, or you'll end up as a hot, glossy mess - although we don't think that would be terrible tbh ;)

Step 3: Let's Roll - Roll on the product onto your area of choice, be sure to apply a little bit of pressure as you do so. The formula is THICK, so needs some pressure to get the (roller) ball moving - much like a lot of great things in life. (see what we did there?)
CLICK HERE FOR A FULL INGREDIENT LIST
Best Before 24 months from date of manufacture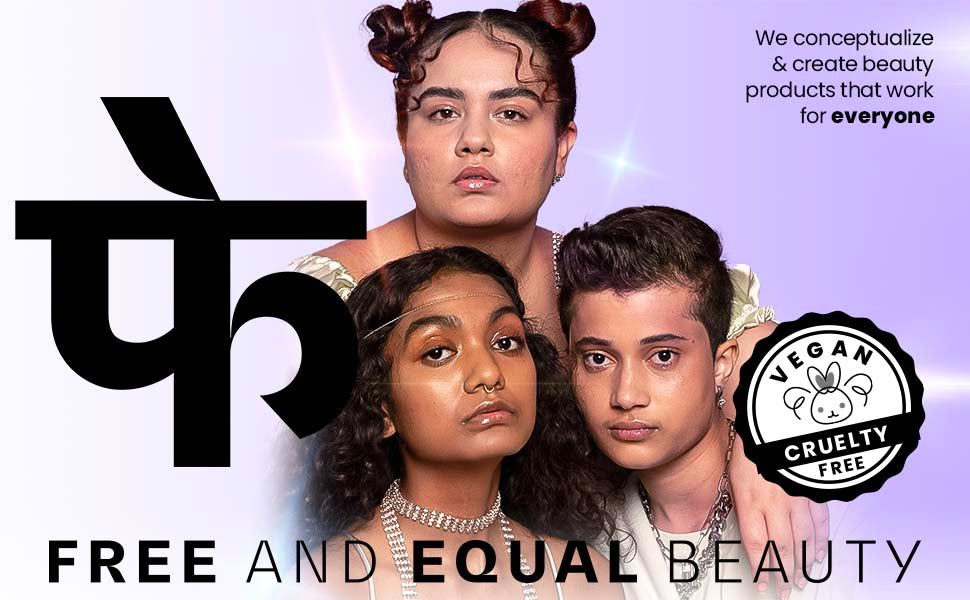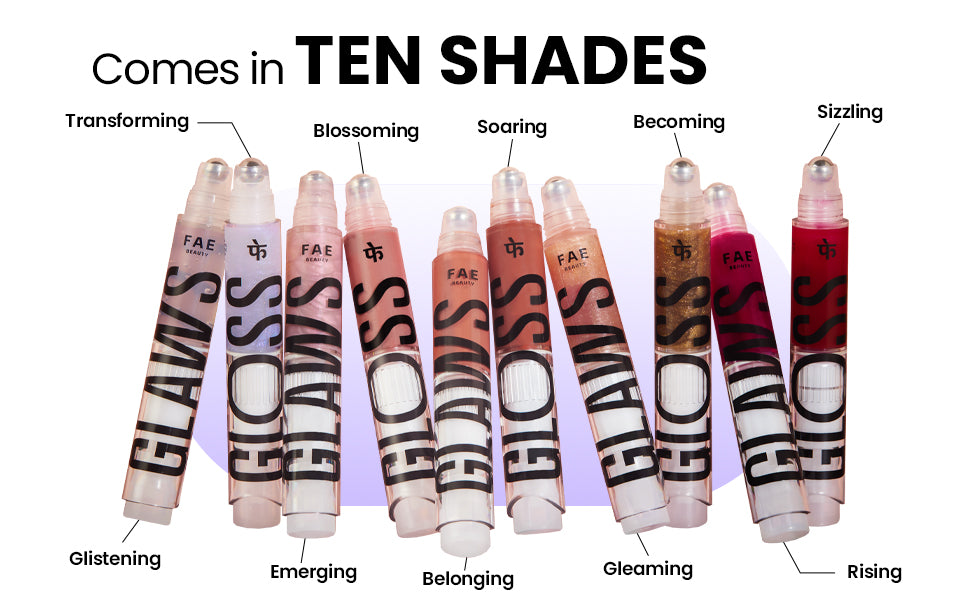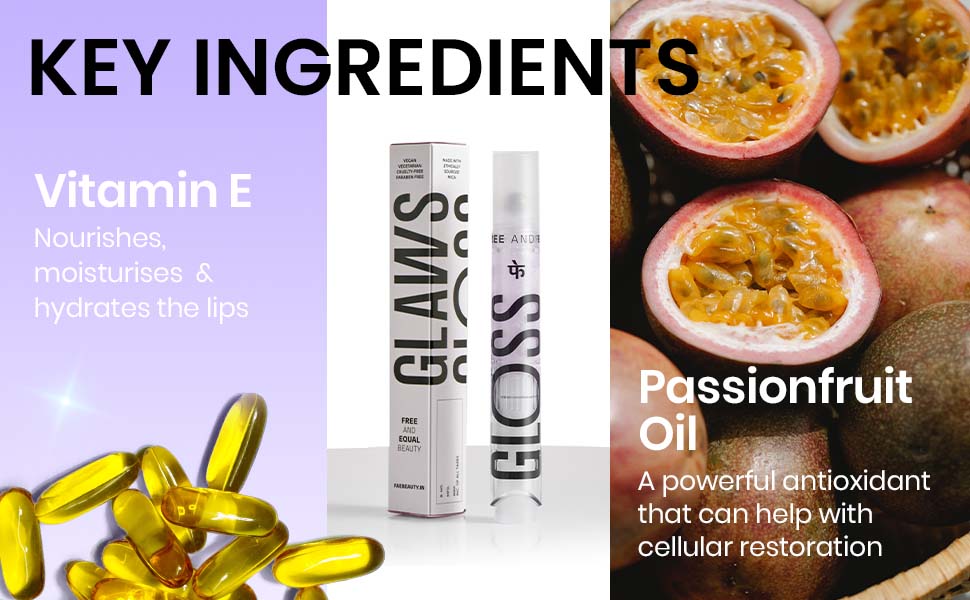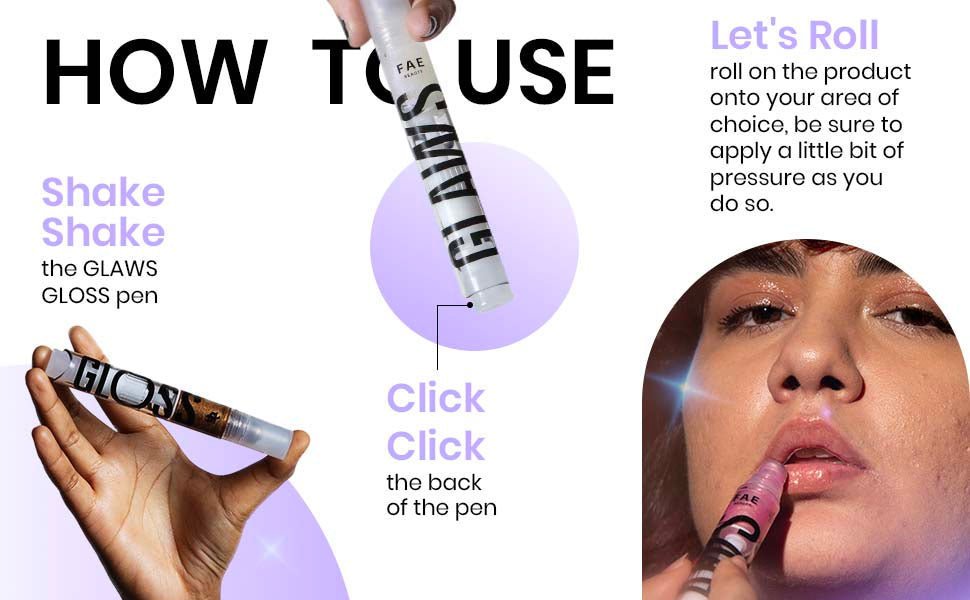 The formula was too good, better than so many high end glosses, but the packaging sucks the product doesn't dispense properly , the roller ball stuck so, overall it's a mess, it will be good if you improve your
Loved it!
This lip gloss is just amazing.
The color, the scent and the texture.
Feels light on the lips. 10/10 definitely recommend it.
Satisfied but not satisfied
The product is good, but the pump is not working now.. i have used it like a month only.. now the whole product is waste..
love the product itself but..
the quality of the product itself is top notch, i wish the applicator was different, i ordered 3 different glosses and all r difficult to use, i shake them and click three to five times and still nothing comes out, it takes v long to get some product so its inconvenient to use (as well as the size issue) but the colours and the quality both r 10/10 otherwise
Lasts long and gives the perfect shine
Guyss thiss is soo worth ittt the it will last you long, has a lot of product and the right gloss you won't even need lipstick it will work as a Tint
shop the look