Daily Dip - Daily Lightweight Moisturizer
Quantity: 50g
What it is: A daily lightweight moisturizer packed with Cica, Ceramides Hyaluronic Acid & PGA to hydrate, strengthen, calm & plump the skin. A moisturizer that works for oily, dry, combination, or sensitive skin - a product for everyone. A product that's so versatile and so effective, that it's your daily go-to. A product that you look forward to dipping you spatula/hands into, every single day. Daily Dip feels soft  + lightweight to use, and melts into your skin, leaving behind a subtle but dewy finish


Why it's special: Daily Dip consists of 4 key ingredients that we think make it as effective as it is
Ceramides: these are basically skin superheroes. They help to reduce redness, soothe irritation, and strengthen your skin barrier. 

A combination of HA and PGA: Here's where the real magic happens. The combination of HA and Polyglutamic Acid ensures that max hydration kicks in. With hyaluronic acid and Polyglutamic acid, your skin is left feeling like it just chugged a liter of water. These ingredients work together to keep your skin moisturized and prevent TEWL. Translation: your skin will be soft, supple, and moisturized all day long.

Cica: helps to calm down those of us with sensitive skin and makes your skin feel more balanced.

Olive Oil Squalene - This is a  skin-identical ingredient, meaning that it is very similar in structure to the oils naturally produced by our skin. Making it highly compatible with the skin and enabling easy absorption. It is an excellent, effective, and nongreasy moisturizer and antioxidant.  
Who it's for:
All skin types, genders, age groups, body parts. But also skincare noobs, and nerds alike - this product should be a bare necessity for

everyone

.
How it feels: When you first dip into the product, it's going to feel super luxurious, but as you blend it into your skin, it almost melts in, with no stickiness, no greasiness, no silicone feeling. Just a healthy looking lit from within shine as a result of the cream breaking into teeny tiny droplets of water to add a further boost of hydration to your skin.
How to use:
Scoop out a mentos-sized amount of product and dot all over your face. Blend until no residue remains. Enjoy the cooling, calming and dewy sensation Daily Dip leaves behind




When to use:
AM & PM - Daily - can be re-applied throughout the day as needed.
How much to use:
A mentos-sized of amount at each application 
PSA: We recommend patch testing all skincare products on your arm or neck 24 hours before using. Store in a cool dry place and avoid direct contact with eyes. Rinse immediately if the product gets into the eyes, contact a medical professional if irritation persists.  

For external use only. 
Keep out of reach of children.


 Best before 24 months from Mfd
CLICK HERE FOR A FULL INGREDIENT LIST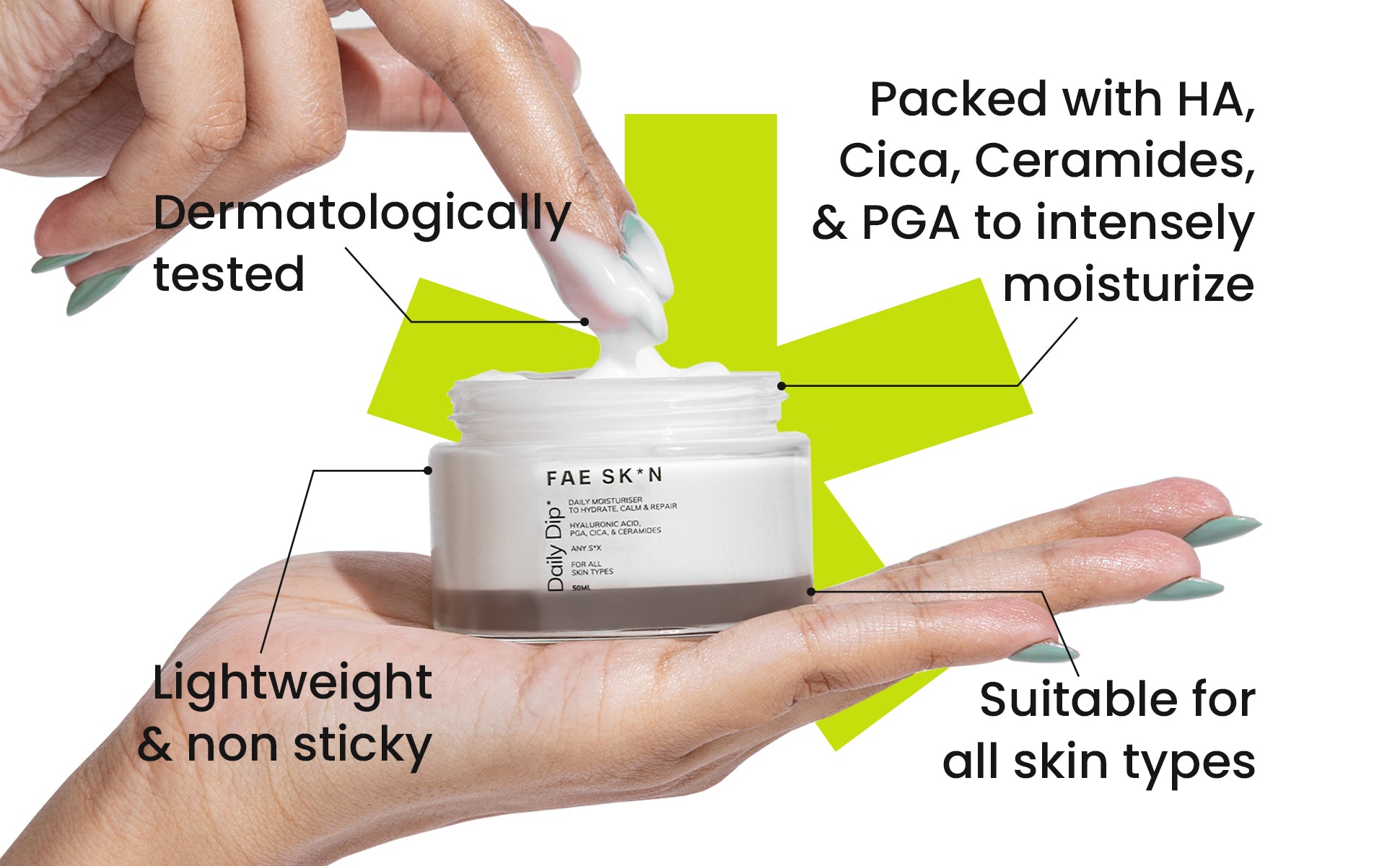 Best Affordable Ceramide Moisturizer in India . 🥰🥺💯😌🤌 Holy grail Moisturizer for my dry skin 😌
As someone who lives in Humid region with dry skin , finding an affordable lightweight hydrating Ceramide Moisturizer was like a dream come true . It's so moisturizing but at the same time doesn't feel heavy and greasy on skin . The texture is just chef ' s kiss 🤌😘🤤 . Another must try from Fae Skin. I am on my second tub , gonna buy next one soon 😁 .
It's so good
This moisturiser calms down my sensitive skin
Too good
Great moisturizer...loved it.ordering second one
Best moisturiser ever
I was 1st very scared to use it. I tried millions of moisturisers but than I found this moisturiser. It's so good, light weight and worth the hype. It doesn't make my skin feel oily at all. Something finally for my combination skin. A life saving product. 💜💜💜💜💜
Loved it💗
Loved this moisturizer...suits my acne prone skin. 💚
shop the look